There are many good reasons to donate a car to charity, including junk car removal and car donation tax deductions, but one of the best reasons for donating is knowing that your car donation goes to a good cause and helps those in need. 
 
Here is one of the projects recently sponsored by Activated Ministries as part of the Missionary Support Program. The Back to School Program in the Phillipines is one that we have sponsored before, but here is an update on our 2012 sponsorship. 
 
This year, Back to School volunteers in the Phillipines coordinated efforts with other local missionaries, one of whom is responsible for teaching and feeding over 100 poor children four times a week in Mindoro, Phillipines. This missionary has been having to make photocopies from a borrowed curriculum to create her lesson plans and had been praying for school books and educational material for the children she serves. She was in tears at receiving several hundred sets of school books and other education materials sponsored by Activated Ministries which local volunteers gave to her and her volunteer teachers. The best part about this donation is that the school will continue to use them over and over in the years to come.
 
To make sure the products were utilized to their fullest, volunteers for Back to School also hosted a short instructional seminar for parents and teachers, showing them how to use the donated materials. 
Another mission trip by Back to School involved donating school supplies, dental hygiene kits and clothing to the 1068 children from low income families enrolled in Day Care Centers in West Bicutan, Taguig.  These villages and towns are very remote and getting supplies such as these is a rare event. 
 
The efforts we have just listed as a few of many made possible through the generosity of donors like you. We know you have a choice when you donate a car to charity. Thank you for choosing Activated Ministries. And remember, all donations made through Donate a Car 2 Charity are tax deductible. If you donate now through December 31, 2012, you will be eligible for a valuable car donation tax deduction in 2012 and you get the satisfaction of knowing you have made a difference in the lives of children and families all around the world. Please visit us at www.activatedministries.org for more information about this and other projects sponsored by Activated Ministries.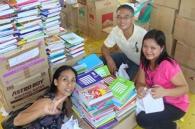 Car Donations Sponsor Back to School in the Phillipines