Choosing a Car for Teenage Drivers
Are you in the market for your teen's first wheels? When your teenager gets close to getting their driver's license, WHAT they will drive becomes a priority. Many families opt for a hand me down car, which makes sense in a lot of ways. After all, if a car is bound to get some dings and dents as your new driver becomes more road savvy, you may as well save a little money in the process.  Right?
The downside to this approach is that it doesn't always take into account the safety aspects of the vehicles involved.  While a few dings and dents may not be the end of the world, statistics show that the greatest risk of traffic crashes in general, are amongst teenage drivers. With that in mind, a few features that make your teen's first car a little safer should they get into an accident, include the following:
ESC (electronic stability control) technology which helps prevents vehicles from skidding out and the driver losing control. While ESC technology has been around for quite some time, it has proven to be immensely effective in preventing collisions (34% in cars and 56% in SUVs). As a result,  all US vehicles built after 2012 will be equipped with ESC.  If you are considering a vehicle that is older than 2012, check to see if it comes with ESC or not. For more information ESC technology and how it works, click here. 
Side airbag. While it is not yet required that all vehicles come with side airbags, again, studies have shown that side air bags greatly increase your chance of survival in a side-crash. Many auto manufacturers include side airbags because it increases their safety rating. So be sure any vehicle you are considering comes equipped with SAB.
Avoid vehicles with a higher center of gravity, like larger SUVs and trucks, especially if they are not equipped with ESC technology.  
Avoid high horsepower cars that can tempt teenagers to speed.
Consider a mid-size or larger cars. While probably not the "coolest" choice, mid or large sized cars tend to be safer as they offer more protection than a small, compact car.
Finally, although it may seem to be a no-brainer, check the crash ratings on any vehicles you are considering and try to pick one with as good a rating as your budget will afford.  Especially when it comes to shopping for used vehicles, there can be a lot of pressure to buy it now before someone else snaps it up. So do your research ahead of time or find a good phone app that can help you find the information you need quickly before you sign on the dotted line or fork out the cash.
If the vehicle you are considering for your teenager doesn't make the grade, seriously consider moving it on either by selling it or donate a car to charity. It may cost a little more initially, you and your teenager may be very thankful you purchased something that ranked a little higher on the safety list.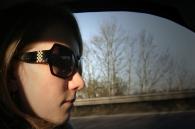 Tips on Picking A Car for Your Teenage Driver