Does donating your car to charity actually make a difference?  You make a phone call, your car gets picked up and you get the receipt for your tax deduction. What happens next? Here is a glimpse into some of the lives being changed through Project Gulu, a nonprofit program being sponsored through your donation of a used or, believe it or not, junk vehicle, to Activated Ministries' Donate a Car 2 Charity program.
Project Gulu, in Uganda, is run by a team of dedicated volunteers who have chosen to make bettering the lives of the war orphans and people of Uganda their mission.
This particular area in Northern Uganda has been in the news a lot lately as the international community was made more fully aware of the atrocities committed by James Kony and his LRA, but the people is this area have suffered for decades both under Kony and Idi Amin and his oppressive regime. Hundreds of thousands were slaughtered by Idi Amin and then an untold number of children were kidnapped and forced to serve as child soldiers or sex slaves by Kony and his LRA henchmen.  Many of those who survived are children. There are millions of orphans or child-headed families, and over 58% of the population is under 15 years old.
Through Project Gulu, Robin Yamaguchi and her team of dedicated volunteers want to help the people of Gulu, Uganda become more self sufficient to where they are less reliant on outside aid and donations. To achieve that goal, Project Gulu is setting up a model, which they hope to replicate in other areas.  The Project Gulu team started out by building and managing a school and home for orphans. They have been educating and caring for over 190 orphans and local children for over 2 years now. 
Now that the school and home for orphans is up and running, their next endeavor is to help the local villages and community become more self sufficient by developing a large farm with a wide variety of crops and farm animals, which will provide food for the community and provide for the locals to make a living.
We will continue to feature this project and keep you updated via posts and videos, but for now, here are a few pictures of the lives being changes through your generosity and car donations. You can find out more about this project here at their website or on Activated Ministries website. Please let us know if you would like to contribute directly to this project and play a bigger part in changing the lives of these children and needy families.
Your donations and car donations are making a difference. The children and people of Gulu in Uganda, thank you for taking the extra step.
Some of the children being cared for by Project Gulu waiting in line for lunch.
A peek at the new school under construction. Check out the new roof!
Some of the younger children's classes at the Project Gulu school.
Robin Yamaguchi helping to unload a new shipment of school supplies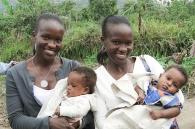 Project Gulu - Sponsored by Your Car Donations