Here are some pictures from Activated Ministries' recent donations to local homeless shelters in the San Diego area of clothing, shoes and camping gear, along with a short "Thank You" note from one of the supervisors of a homeless shelter. 
"I want to Thank You for the boots.  These are some of our residents that benefited from your donations.  We have put them to good use.  They are all thankful and they tell me the boots are super comfortable."- Natalie
For more information on this and other projects sponsored through the generous donations of local establishments, individuals and car donations to Donate a Car 2 Charity, visit us at www.activatedministries.org. Enjoy the weekend!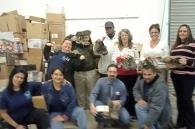 Updates on Recent Giveaways and Donations to Local Charities