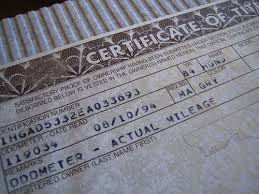 What Paperwork Do You Need to Donate Your Car?
ONE OF THE MOST FREQUENT QUESTIONS WE RECEIVE IS WHAT PAPERWORK IS REQUIRED WHEN YOU MAKE A VEHICLE DONATION
Vehicle title
In most cases all you need is the properly signed title.  The requirements for whether or not your vehicle needs to have a title vary from State to State, so please check the State Information page to find the specific requirements for your State.
What if I have lost my title?
In most cases we can apply for a replacement title for your vehicle, we will just need the registered owner to sign some documents at the time of pickup.
What if the owner of the vehicle is deceased?
In most cases we can pick up the vehicle if you have the death certificate and with a signature from the executor of the estate. 
Do you accept abandoned vehicles?
Unfortunately, we cannot accept abandoned vehicles unless we can get a signature on some paperwork from the last registered owner of the vehicle. 
Release of Liability
In most states, the license plates should be removed and returned to the DMV once the towing agency arrives to pick up your car. The license plates can remain on the car in the following states: Alaska, California, Hawaii and Minnesota.
You must also fill out a Release of Liability form to the DMV in the states of Arizona, California, Illinois, Minnesota and Washington. In Illinois, Minnesota and Washington, this form is called a Report of Sale. In the states of Alaska and Hawaii, you need to complete and return to the DMV the Notice of Vehicle Sale which is attached to the bottom of your title. 
On these forms, you should fill in our name and address: Donate a Car 2 Charity, 1914 W. Mission Rd, Escondido, CA 92029.
Making a Difference
Your vehicle donation to Donate a Car 2 Charity supports the mission and projects of Activated Ministries' projects. One of our favorite programs here at Activated Ministries is our "In Recognition of Service" scholarship program which provides scholarships to the children of long time volunteers or missionaries. Each scholarship is made possible by cars you donate to our Donate a Car 2 Charity program. Thank you for helping us enable these incredible young people get a post secondary education.  Call today to make arrangements for quick, no cost and hassle free pickup.
We Don't Use a Middleman
By keeping our process in house, Donate a Car 2 Charity cuts out the extra costs often incurred by other charities. This means 100% of the proceeds from your vehicle donation go to support Acxtivated Ministries and its programs.  Activated Ministries is an IRS recognized 501(c)3 nonprofit and your vehicle donation is full tax deductible.