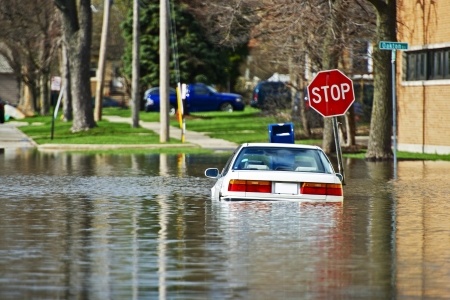 What To Do with a Flood Damaged Car or Vehicle
Absolutely. If you are stuck with a flooded car that is beyond repair, you have several options. 1) You find a buyer who is willing to buy it as is or 2) You can donate a flood car to charity. One reason why many car owners opt to donate submerged vehicles instead of selling them is because selling a flood damaged salvage car is tough. Car buyers are often wary of buying a salvage car, especially one that was flooded. You may end up having to sell the car for rock bottom prices and go through a lot of hassle in the process. When you donate flood vehicles, however, the car gets sold at auction by the charity and you can claim a tax deduction for the car donation. Car Charities appreciate car donations of vehicles in almost any condition, and will be very happy to provide a free tow for your flood car donation.  To start the donation process, click here: donate a flood car to charity.
What To Do with a Flood Damaged Car or Vehicle
When flooding occurs, whether it's due to heavy rains, swollen rivers, a tropical storm or a hurricane, cars get submerged, suffer water damage and are often subsequently determined to be beyond repair. However, depending on the level of submersion, the length of time a vehicle was submerged and the type of water (fresh or salty), there are steps you can take to try and salvage the car.
Be Prepared and Prevent Flood Vehicle Incidents:
Preventing your vehicle from suffering flood damage is, of course, the best option. The Weather Channel and local TV and radio stations usually do a great job at providing warnings of high water, flooding dangers or of an approaching storm or hurricane. If at all possible, heed the warnings, obey mandatory evacuation orders or get out or stay out of areas which are flooding and, if you must drive during a storm with flood warnings, do not drive through high water or water in which the depth cannot be safely determined. 
Flooded car? Take action quickly! 
If the worst happens and your car gets submerged in high water, once the flood has subsided and you are no longer in danger, it's time to take action. While you should contact your insurance carrier, you should also start drying out your car immediately. Document everything by taking pictures, but then proceed to take the following steps. While it's not always possible to save a car with flood damage, if you act quickly, you may be able to salvage it or minimize the long term damage.
Here's what you can do as soon as it's safe for you to get at your car:
DO NOT try to start a car if the water reached or submerged the engine for any length of time. Turning over the engine causes more water to be pushed throughout the engine, transmission, brakes and other car parts which will cause more damage. Wait until you have dried out and drained the car before attempting to start, or better yet, have it towed to a mechanic.
DO disconnect the battery ground strap immediately to prevent more damage from accidental frying of components.
DO NOT wait for the adjuster to evaluate the vehicle before you start drying the car. Take pictures for insurance purposes, but then get on it and dry everything as well as you can.
 
DO drain the flood water from all parts and systems and flush with clean water or solvent.  
DO drain out contaminated fluids and oil and replace with fresh oil and fluids. 
DO dry and clean the electrical system and components as well as you can.
DO NOT leave the water on the seats and upholstery or your seats or let it dry naturally or you will have permanent water stains and musty smell that is hard to get rid of. Dry out the interior of the car as soon as possible by using a wet/dry vac or a carpet cleaner with strong suction power to extract as much moisture out of the seats and upholstery.  
DO determine whether the flood waters were fresh or salty. This will help you determine whether it's worth investing money and time into fixing up the damage. A car flooded by salty water is probably not worth fixing as salt will eventually corrode parts and wiring causing all sorts of problems.
 
DO take your flood vehicle to a mechanic that specializes in evaluating flood vehicles to determine whether your car is worth fixing and to ensure you are not causing more damage by driving it with compromised parts and components. Wheel bearings, for instance, often need to get repacked after a high water experience. 
Connect With Your Insurance Carrier
Connecting with your Insurance Carrier to discuss coverage of a submerged vehicle should done as soon as possible. Your insurance carrier will need to assess the damage and make the determination whether the loss of your vehicle is covered or not.  If you have comprehensive insurance, you should be fine, however, it is important to note that insurance companiesstop selling comprehensive insurance if a hurricane is in the forecast. So to be sure you are covered by having  your comprehensive coverage in place well ahead of any disasters.
For your convenience, here is a list of the major insurance carriers and their contact information.
Donate a Car 2 Charity has launched the Cars 2 Care program to provide good quality vehicles to needy individuals or families. To see if your vehicle donation qualifies for the Cars 2 Care program, please call us at 1-877-505-5775.
Do you have any questions about how to claim a tax deduction for your car donation? Please call 1 (877) 254-1743 to speak with one of our courteous & helpful operators.