Activated Ministries Disaster Relief
OVER THE PAST 15 YEARS, ACTIVATED MINISTRIES HAS PROVIDED FUNDING AND SUPPLIES TO GRASSROOTS NONPROFITS AND MINISTRIES PROVIDING DISASTER RELIEF DURING MAJOR DISASTERS SUCH AS THE CHILEAN EARTHQUAKE AND TSUNAMI OF 2010, THE NEPAL EARTHQUAKE OF APRIL 2015, THE ASIAN TSUNAMI OF 2004, THE JAPAN EARTHQUAKE AND TSUNAMI OF 2011, HURRICANES KATRINA AND IKE IN THE UNITED STATES AND MORE.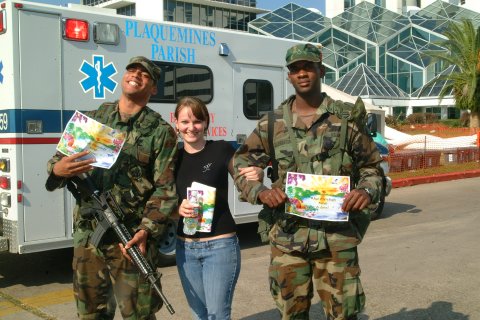 When disasters strike, our goal is to get help to volunteers and aid workers at the ground level for maximum effectiveness.  We have conducted special fundraisers for disaster relief overseas. Our relief efforts in the United States for disasters, such as Hurricanes Katrina and Ike, have included supplying materials to local ministries and aid workers working in affected areas, as well as supplying trailers or vehicles, as they are available, to needy families.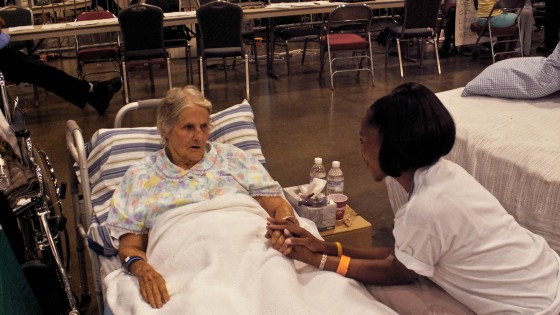 Here are excerpts of reports received from volunteers and relief organizations we have sponsored during major disasters.
Asian Tsunami – Thailand --2004
On the morning of December 26th, an enormous underwater earthquake hit Indonesia. A few hours later the waves caused by the upheaval washed the shores of countries facing the Indian Ocean. With little or no warning, hundreds of thousands of people, and everything else in the way, were violently washed away by the giant tsunami waves.
Our mission bases in Thailand immediately started collecting goods and sent a 2-man team to Phuket to find out what the biggest needs were and where they should distribute the goods they were collecting. With the generous help of many friends, in a matter of days, they were able to fill a 6-wheel truck with several tons of goods, including blankets, clothing, toiletry items, rice, pots and pans, drinking water and much more.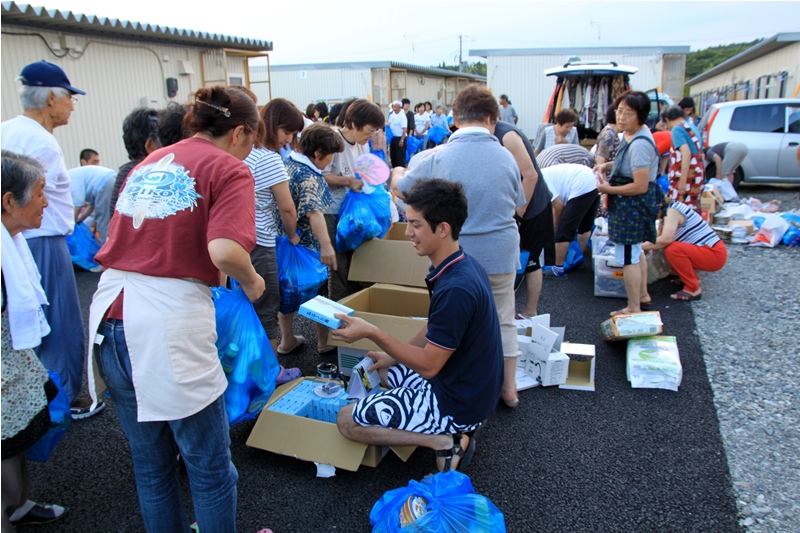 From the newspapers and TV, it was obvious that the destruction was great. But they had no idea how total the destruction was until they saw it firsthand. Miles and miles of resorts, houses and villages had been washed away. In their place, the land was littered with reminders of what had been there: Refrigerators, baby buggies, blenders, bubble jet printers, motorbikes, cars, lamps, toys, light poles and electric wires.
Our volunteers in Thailand mobilized 30 volunteers and humanitarian aid to assist the survivors of the tsunamis that battered Thailand's southern coasts on the morning of December 26th. Volunteers are engaged in hospital visitation in both Phuket and Phangna provinces (Wachira Hospital, Patong Hospital, Takua Pa Hospital and Phangna Hospital) and Bangkok (Police Hospital and Srinakarin Hospital – to where some survivors were airlifted), bringing a message of comfort, solidarity and hope that broken hearts and destroyed homes can be restored.
Volunteers offered both translation and coordinating services for injured and surviving foreigners, as well as for foreigners coming to Thailand to identify or pick up relatives, which provincial officials in Phuket and Phangna have sincerely welcomed.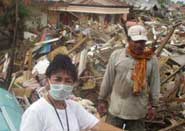 They also visited refugee centers and orphanages in Phangna, bringing smiles and a ray of light to otherwise discouraged faces. The Department of Social Welfare has requested our ongoing assistance in the establishment of orphanages, as more than 100 children lost their parents to the deadly tsunamis, though officials say they expect more orphans to be rescued in the coming days. A second team of our volunteers is now in Phuket for this particular purpose, and will focus on helping them cope with their losses through personal attention and play therapy. Volunteers will continue to help with this project on an ongoing rotational basis.
Since the 26th, our volunteers have collected and transported approximately 10 tons of donated supplies, clothing and food, which was distributed directly to affected villagers. Still urgently needed supplies include: construction materials, bottled water; clothing; dry foodstuffs (rice, instant noodles, powdered milk, etc.); undergarments; shoes; toiletries; tents; blankets and bedding; pots and cooking utensils, etc.
We are helping to organize donated supplies. Of course, this only a drop in the bucket when compared with the immense need that exists--whole villages were washed away when the waves hit, and thousands of already very poor people have lost their homes and all their belongings--and it will take more than just food and clothing to rebuild their livelihoods, and perhaps more importantly, to lift their despairing spirits and strengthen the will to start again and continue on.
Japan Tsunami and Earthquake - 2011
The Phoenix project is aimed to bring encouragement and a personal touch along with material aid to refugees from the earthquake and tsunami that devastated much of the northeastern coast of Japan.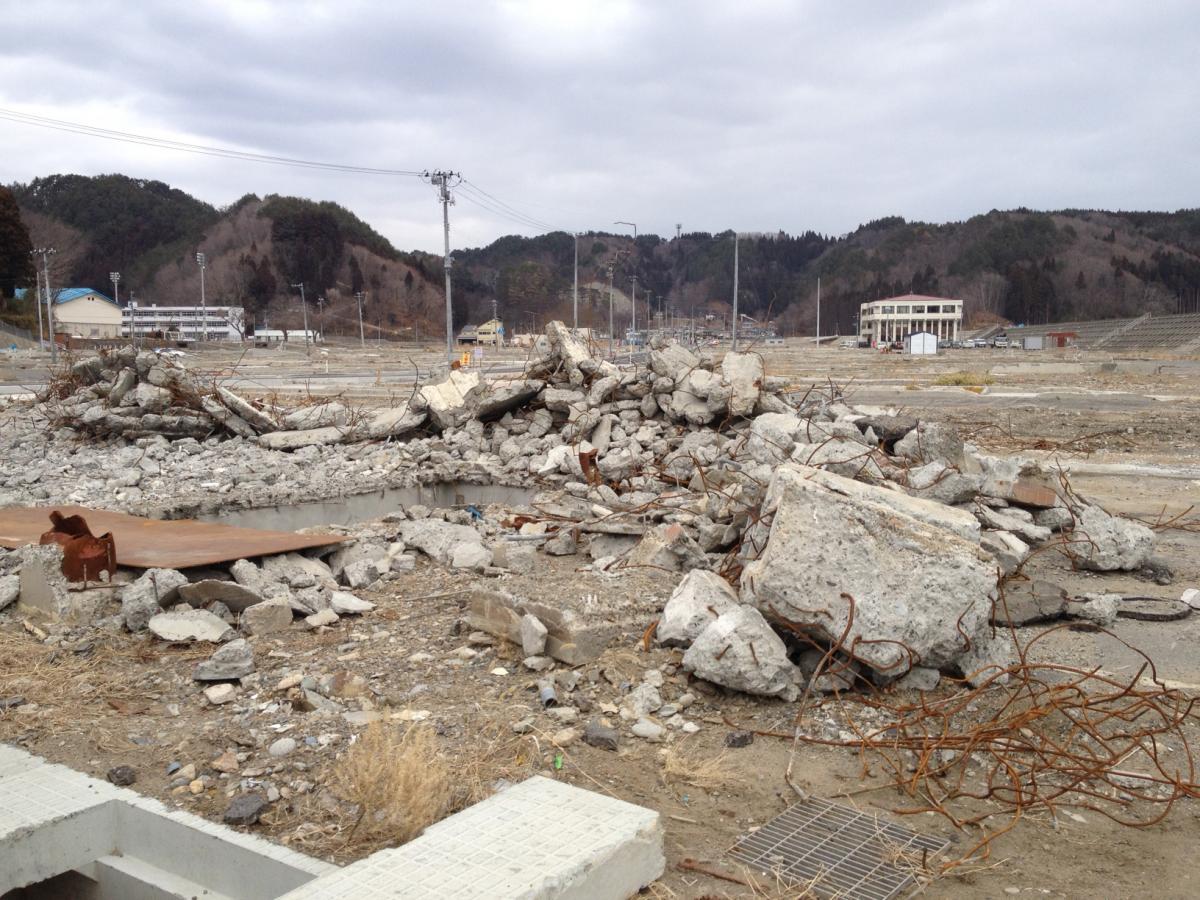 This project brought together professional clowns from Tokyo, the Band Aid Band and other volunteer workers in an effort to bring smiles to the faces of hundreds who had lost their homes or were forced to evacuate due to the Fukushima nuclear power plant failure. From April 2nd to April 5th we were able to visit 6 evacuation centers in Tochigi and Fukushima Prefecture.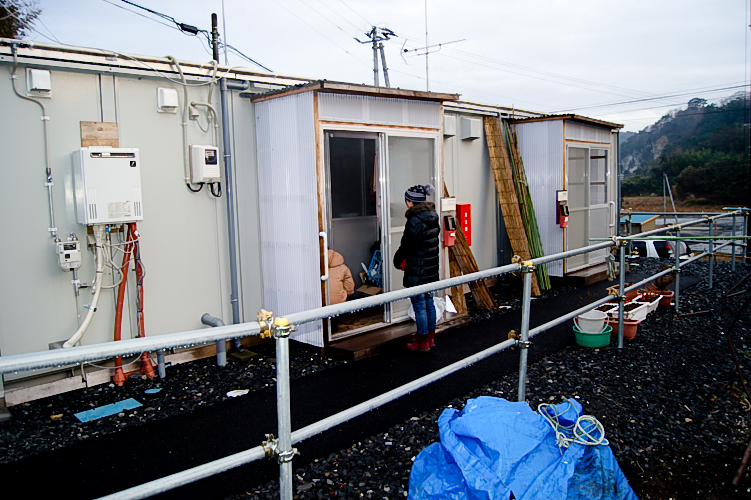 On our way to the evacuation centers, we passed temporary roads with water stretching out on bothsides, saw capsized fishing boats in the mud, and an upended concrete building. The place must have been beautiful before the tsunami, but now was desolate. Thinking of all the work it will take to clear the debris and rebuild made my heart sink a little.
We met many people who had to evacuate from around the Fukushima Nuclear plants and some even had to move from one evacuation center to another a number of times.
At the first center, most of the men were out clearing the debris. Most of the children were out too. We delivered some extra summer clothes, insect repellant and other supplies. A lady in her 40s who worked as a receptionist treated us warmly. She was very calm and seemed to be at ease and ready lend a listening ear to anyone. Since she acted so cheerful, at first I thought she was a volunteer worker from a different area. But she turned out to be one of the evacuees whose house had washed away. She didn't show a bit of pain or grief, however, only cheerfulness, and it felt as if we were the ones being encouraged.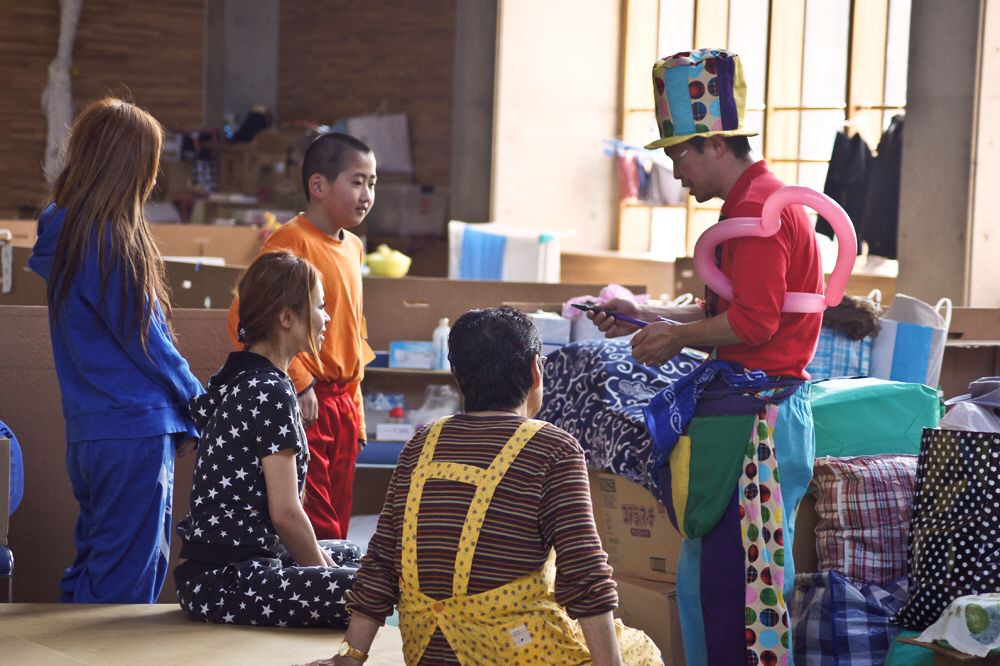 Because the small area around the evacuation center had been left standing and could only be reached by a narrow road temporarily set up, they said going shopping was rather difficult and commented that if they only had two bicycles it would be much easier.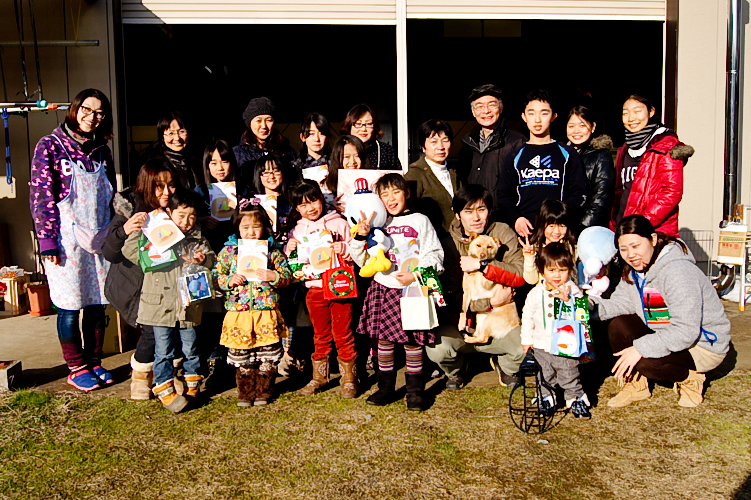 We asked each evacuation center we planned to visit what they needed the most that wasn't covered by government aid. We purchased undergarments, tissue paper, socks and other day-to-day items that were in short supply and distributed them at these centers as well.
Our team performed clown shows on this trip and made balloons for the children there. We also gave them picture books and distributed booklets of encouragement that we had printed especially for the refugees. We distributed diapers and supplies. The receptionist whom we met earlier also came to make sure that we found the place to set up, and went back smiling when she saw us. People at the community center said with teary eyes, "Everyone is so good to us, we're so thankful."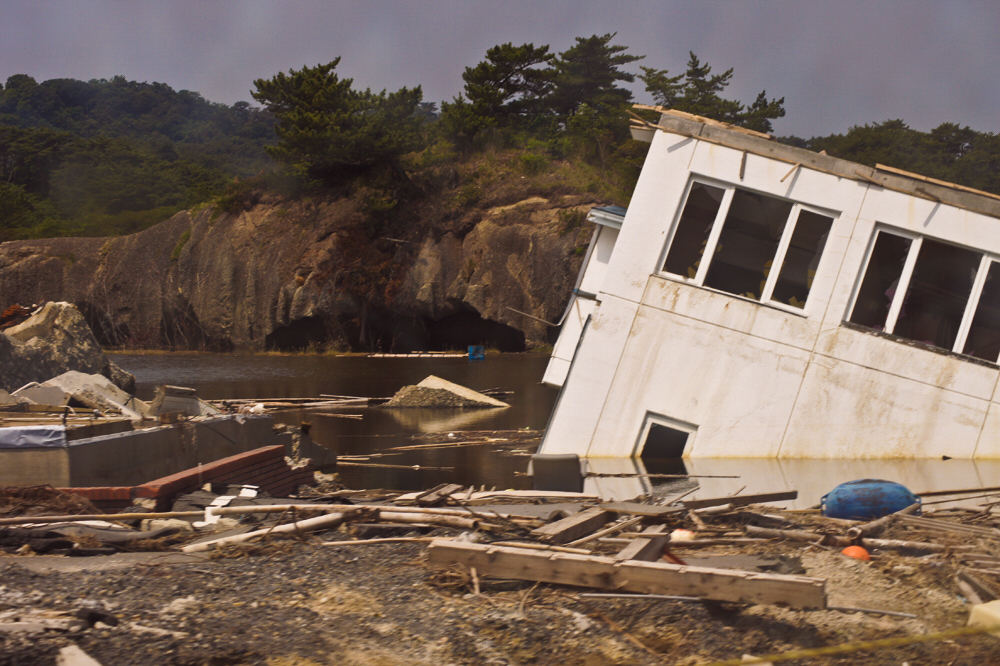 In the afternoon we visited the two evacuation centers, performed a clown show, delivered supplies, and gave the children picture books and toys. We were able to distribute encouraging booklets sponsored by Activated Ministries as well. At both centers, it impressed me that the people there were all very cheerful and smiling. One elderly man said chuckling, "At first it was difficult trying to sleep in one gym with all the people. Some people snore, others grind their teeth, and babies crying everywhere. But now I'm used to it." A bed built of cardboard was made recently to alleviate the cold of the floor.
People around the world have commended the stoicism and courage of Japanese people in the face of this tragedy so we opened a mail box to receive words of encouragement and support for the Japanese people. Thanks to the many kind individuals who have written to us from around the world, we were able to translate excerpts from their letters and compile them into a pamphlet that we also distributed at these centers.
Amidst so much hurt and heartbreak and loss, the light of kindness and generosity shines out so brightly. To be able to witness this is a priceless treasure and I want to thank Activated Ministries for the part you played in making it possible.
Fast, Easy Vehicle Donation
Donate a Car 2 Charity provides convenient and free pickup of car donations nationwide -- often within 24 hours of your donation! There are no hassles and no hidden costs. We accept vehicles whether they are running or not!  Got an old junker you need hauled off your property? Give us a call & we'll provide fast, free towing. With over 15 years of experience in accepting vehicle donations, Donate a Car 2 Charity will help you receive the maximum tax deduction for your car donation.
We Don't Use a Middleman
By keeping our process in house, Donate a Car 2 Charity cuts out the extra costs often incurred by other charities. This means 100% of the proceeds from your vehicle donation go to support Acxtivated Ministries and its programs.  Activated Ministries is an IRS recognized 501(c)3 nonprofit and your vehicle donation is full tax deductible.