Getting Ready for The End of the Year Tax Deadline!
Mark your calendars!  It's coming soon. The deadline to donate a car and receive a tax deduction is December 31st at midnight if you plan to claim it on the current year's tax return. Of course, waiting until the last minute is not recommended. If you have a vehicle you plan to donate, go ahead and get the process started now so you have everything squared away and the tax receipt in hand.
If you're not quite ready to submit the donation now, the next best thing is to plan ahead so you submit the car donation and at least have the title in the mail in sufficient time to be post marked before the December 31st  deadline passes.  
Of course, worst case scenario, if things get delayed, and you suddenly realize on New Year's Eve that you still haven't donated, it's not too late as long as you call into the charity before midnight on December 31st, (well before 11:59 PM), and explain your situation. The charity can work with you to register your donation so that you can send the title in the first week of January.  
To start the process today, give us a call at 1-877-505-5775 or submit the online form at www.donateacar2charity.com.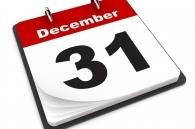 So when is your absolute LAST chance to donate and get a tax donation for the current year?